Immigration
CCS is experienced in assisting Dutch-trained teachers with immigration and Alberta Education accreditation.  We invite applications from accredited teachers at both elementary and secondary levels, who are members of the [Oud] Ger. Gem. [in Ned.] and who have a love for the truth which is according to godliness.
Application
Following clarification of any preliminary questions with the principal (principal@ccschool.ca or 001-403-381-3030), prospective teachers should submit a letter of intent and a resumé or c.v. to office@ccschool.ca.  References (both academic, e.g. a current employer or supervisor, and religious, e.g. a local minister or elder) should be provided.
Screening
Upon receipt of an application, the CCS School Board makes an initial determination of eligibility. If the applicant is qualified, the principal conducts reference checks. Meanwhile the CCS interview committee in the Netherlands will arrange a meeting with the applicant to conduct a screening interview.
Based upon a recommendation from the Dutch interview committee, and positive results from the reference checks, the applicant will be invited for an interview at CCS.
Interview
Prospective teachers are invited to visit CCS for three days. (Travel costs are covered by the Board, and local accommodations will be arranged.) During the time at CCS, the applicant will have an opportunity to tour the school, meet existing staff, and observe a number of classes.
An interview with the Human Resources (HR) committee will be scheduled during the visit.  Based on this interview, a hiring recommendation will be made to the Board.
Following a successful interview, a job offer will be extended. Two streams of preparation then take place: immigration (under the federal Department of Citizenship and Immigration) and teacher accreditation (under the provincial Department of Education)
Immigration
We work with an immigration consultant to determine the best program through which to apply for immigration, and to facilitate the application process. A Labour Market Impact Assessment (LMIA) is undertaken to demonstrate a need to hire a non-Canadian employee. A medical exam and a criminal record check will be required.
A work permit from Citizenship and Immigration Canada (https://www.canada.ca/en/immigration-refugees-citizenship/services/work-canada/permit.html) is required before permission to teach is granted.
We work with new teachers once in Canada to pursue Permanent Resident status.
Certification
As an accredited Alberta school, we are required to ensure certification of all our teachers (https://www.alberta.ca/teacher-certification.aspx#supporting-documents). In order to issue permission to teach, Alberta Education will require the following documents to be sent directly from the issuing institution:
Transcripts for all post-secondary education completed (translation must also be supplied if transcripts are not in English; the school will provide this)
Proof of eligibility to teach in the Netherlands (verklaring onderwijsbevoegdheid)
They will then evaluate your documents to determine correspondence with Alberta teacher certification requirements.  For almost all Dutch applicants, additional University-level courses are required to attain equivalency.  In that case, a "Letter of Authority" is issued which gives permission to teach in Alberta, but at least two courses per year must be completed to maintain professional standing. (Specifics of which courses are required will depend on each individual's academic background.) Generally, ten courses are required before an "Interim Professional Certificate" (introductory Alberta teacher certification) is issued.
English proficiency must also be demonstrated before a Letter of Authority is issued.  Usually this is done by completing the IELTS exam (sample: https://www.ielts.org/about-the-test/sample-test-questions). The required standard is 7 in Speaking and Writing, and 6.5 in Listening and Reading.  This is roughly equal to a C1 level of Cambridge Academic English (see diagram).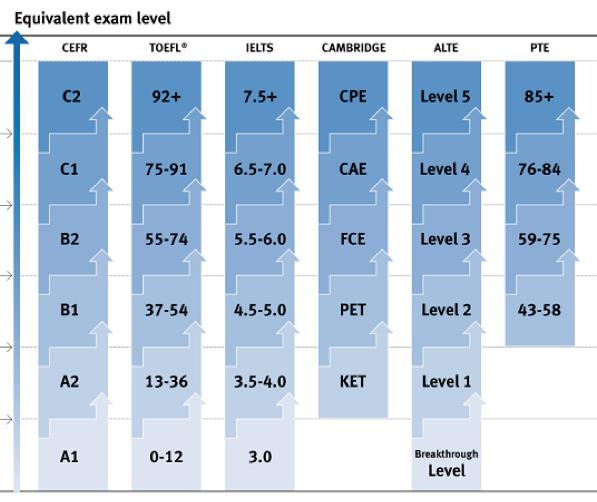 Our mission statement
The mission of Calvin Christian School is "to provide Christian education through quality teaching and learning based on God's Word."